Present at the event: (L-R) DFID Deputy Head Kenny Osborne, UNFPA Rwanda Deputy Representative Daniel Alemu, Acting Director General Sandrine Umutoni and Dr. Anicet Nabonimpa, Reproductive Health and FP Expert at RBC.
A new drive has been launched to involve Rwandan youth countrywide, in addressing the challenges related to their sexual reproductive health.
The nationwide campaign dubbed Innovation Accelerator (iAccelerator) is a mentorship-driven acceleration programme an initiative supported by UK Aid from the UK Government, and implemented by Imbuto Foundation in partnership with UNFPA.
It aims at exploring new and engaging ways to tackle pressing sexual and reproductive health challenges, while promoting social entrepreneurship among young people.
Sandrine Umutoni, Acting Director General of Imbuto Foundation, noted that the programme is a call for young people who have creative and innovative solutions to contribute to addressing challenges in response to complex development and health related issues focusing on sexual and reproductive health.
"There are challenges regarding sexual reproductive health and we decided that through the iAccelerator programme, we can put up a challenge for the youth to give us long lasting solutions that are business oriented, and relate to sexual reproductive health among adolescents," she said.
Daniel Alemu, the UNFPA Representative a.i noted that when empowered and given the right opportunities, youth are effective agents of change, which is why they need to be involved in the development of issues affecting them.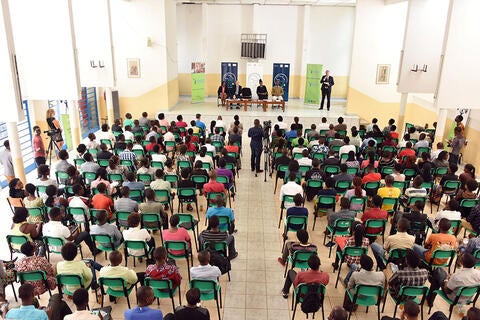 During the launch of the Innovation Accelerator (iAccelerator) programme held at the College of Business and Economics at the University of Rwanda.
"The number of adolescents living today is higher than at any other time in history. This means that this generation will largely drive the outcomes of all the sustainable developments goals. They will also be the ones who have to live with the results," Alemu.
"Investing in youth education, health and livelihoods and in youth-led organisations, initiatives and partnerships will be critical to achieving every one of these goals," he said.
The campaign will run up to January 23 next year, where young innovators and entrepreneurs between the ages of 18-30 can submit their business ideas in response to the challenge of "access to quality sexual and reproductive information and services for young people" through the website www.iaccelerator.rw. The programme will encourage young people to think critically and creatively about issues related to sexual and reproductive health.
A pitching contest for the 10 best projects will be organized, at the beginning of February next year from which the top four projects will win a grant, training and mentorship.