On May 7-8, 2016, Gakenke District was affected by a series of landslides that occurred in almost all sectors in the district. The landslides were triggered by torrential rains caused by the El Niño phenomenon. The sustained heavy rains also caused some flooding in Muhanga and Ngororero Districts on May 9th, 2016.
Gakenke District authorities reported that the landslides caused the death of 34 people and injured 19. Almost 1,500 houses were damaged, rendering approximately 6,031 people homeless, many of which were children. About 1,632 hectares of agricultural land were destroyed along with 777 livestock.
After initial rapid assessments, the Ministry of Disaster Management and Refugee Affairs (MIDIMAR) and the One UN in Rwanda conducted a joint assessment in Gakenke District on June 15th and 16th focusing on different sectors. The health assessment showed that the needs of vulnerable women and girls had to be addressed, especially in terms of their sexual and reproductive health.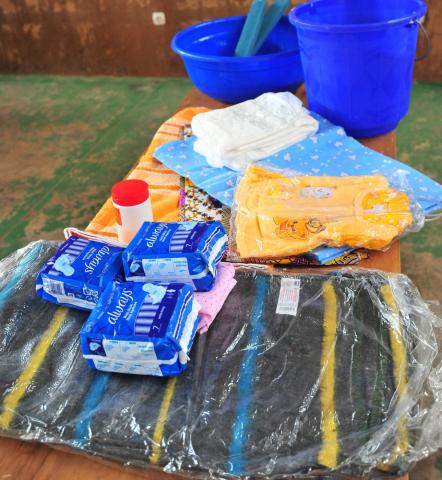 A dignity Kit of basic hygiene items for a mother and her newborn baby
UNFPA and UNAIDS purchased 600 dignity kits for vulnerable pregnant women who have been affected by the floods and landslides. Each dignity kit contains a number of basic hygiene items for a mother and her newborn baby. On September 28th, these dignity kits were handed over during an official ceremony at Gakenke District attended by the Mayor, the Vice Mayor in charge of Social Affairs and representatives of the health centers of Mataba, Nganzo and Minazi.
Dr. Sibongile Dludlu, Country Director of UNAIDS Rwanda, stated that "following events such as this year's landslides, we all have a responsibility to contribute and alleviate suffering. This is why UNAIDS decided to support the provision of dignity kits to vulnerable women as an important component of basic sexual and reproductive health."
The handover ceremony was followed by a visit to some of the houses being constructed with the support of IOM and other partners, also part of the One UN's disaster response in Gakenke District.