CELEBRATION OF THE WORLD CONTRACEPTION DAY 2020 KIGALI, 26 September 2020 – Women have a fundamental right to decide if and when to have children, yet more than 222 million worldwide are unable to access modern contraception when they need it. And history has proven that even well-intentioned efforts to provide women with increased access to contraception can result in coercive practices if women's rights and empowe...
A new High-Level Commission of advocates, experts and activists was established today to help commitments to women's health and rights made at the 2019 Nairobi Summit on ICPD25 stay on track, even during COVID-19, which is blocking access to essential services.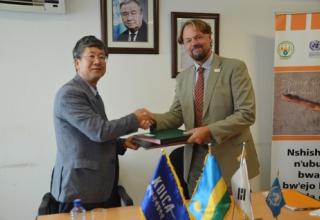 KIGALI, 25 August 2020 - The United Nations Sexual and Reproductive Health Agency , UNFPA, in partnership with Korea International Cooperation Agency (KOICA) Rwanda, celebrated on 12th August 2020, the growing partnershi...
Vacancies
Job Title: Personal Assistant to the Representative Level:  G6 Position Number: 00005689 Location: Kigali, Rwanda...