UNFPA supports Personal Protection Equipment to protect front line health workers across Rwanda. In line with UNFPA support to the National COVID19 preparedness and response plan, on Friday 24th July, UNFPA handed over to Rwanda Biomedical Center (RBC), personal protective equipment (PPE) that will help protect frontline health workers as they deliver sexual and reproductive health services during the COVID-19 pande...
COVID-19 pandemic has sickened 11 million people and left more than half a million dead. But the full toll of this catastrophe has been incalculably greater. Health systems have been overwhelmed. Economies have been shuttered. And women and girls have been disproportionately affected, with sexual and reproductive health services being curtailed and gender-based violence on the rise.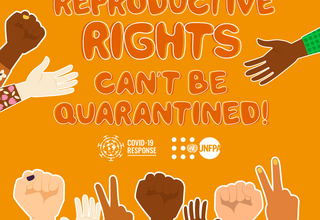 Peace in our world begins with peace in the home, as the United Nations Secretary-General stated in his call for a global 'ceasefire' on gender-based violence – a pandemic within the COVID pandemic. One woman in three experiences physical or sexual violence in her lifetime. Now, with countries on lockdown and household tensions heightened, gender-based violence is on the rise, and sexual and reproductive health servi...