You are here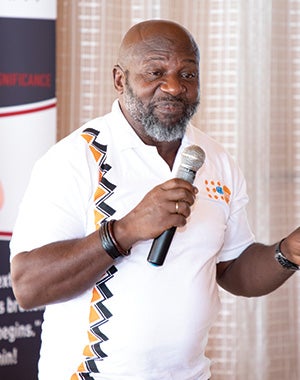 Kwabena Asante-Ntiamoah
Kwabena brings vast experience having served as the Representative a.i. Malaysia & Country Director a.i. Thailand, and also as the Deputy Country Representative of UNFPA in Afghanistan and Cameroon.
Kwabena has over 20 years working experience in peacebuilding, humanitarian and development work. He has worked with the UN Department of Peace Keeping Operations with the UN Mission in Bosnia and Herzegovina and brings on board the nexus of linking peace, humanitarian and development. He has managed country portfolios in UNV Headquarters, Bonn, Germany, Kyrgyzstan, Liberia, Sierra Leone and South Sudan.  
He is a national of Ghana and holds a Master of Science Degree in Development Studies from the University of Bath in the United Kingdom, a Bachelor of Arts (Honours) Degree in Sociology with Political Science from the University of Ghana, and a Certificate in Leadership from the Columbia University.