NEW YORK, United States—UNFPA's eighth Rwanda Country Programme 2018-2023 was approved by the Executive Board yesterday following a compelling statement outlining the Fund's key achievements in the country to date.
Dr. Julitta Onabanjo, UNFPA Regional Director for East and Southern Africa, described UNFPA's achievements in Rwanda and features of the eighth Country Programme. These were also displayed in a video on the Fund's strategy to 'reach the last mile' for women and girls, and adolescents and youth.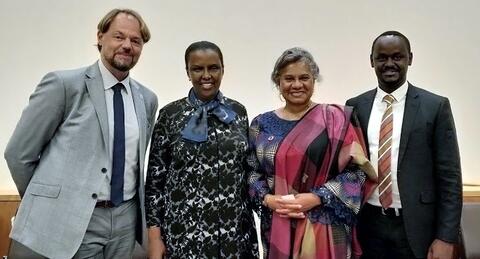 The Permanent Representative of Rwanda to the UN, Ambassador Valentine Rugwabiza, gave a powerful statement of support in which she expressed her appreciation for the strong partnership between UNFPA and the Government of Rwanda. She commended the consultative process to develop a quality Country Programme fully aligned with the new National Strategy for Transformation 2017-2024 and the Health Sector Strategic Plan IV, as well as the use of data and evidence to target districts and programming to ensure no one is left behind.
Ambassador Rugwabiza praised the Country Programme focus on Getting to Zero Unmet Need for Family Planning, and encouraged UNFPA and One UN to build on results to advance the humanitarian-development nexus.
The Permanent Representative of Belgium to the UN, Ambassador Marc Pecsteen de Buytswerve, conveyed his appreciation of the role of UNFPA in Rwanda, and the Fund's focused, relevant support as defined in the new Country Programme.
The eighth Country Programme will build on UNFPA's support and results to date to continue delivering transformative results for the people of Rwanda, said Mark Bryan Schreiner, UNFPA Representative for Rwanda.
Maureen TWAHIRWA