The Rwanda Demographic Dividend (DD) profile for Rwanda recommended the combined (social and economic emphasis investment) scenario to be applied in order to reap the DD and highlighted family planning as a best buy to achieve sustainable development. In 2017, the Government of Rwanda updated its commitments to FP2020 seeking among other things to improve access of family planning services  through an improved and sustainable supply chain of commodities, strengthened capacity development of health service providers, increased social behavior change communication (SBCC), strengthened youth targeted interventions as well as the use of new technologies. All these goals rely on the ability to achieve financial sustainability for family planning. For programs to be financially sustainable, due consideration should be given to increasing their value for money and their technical efficiency. 
Family Planning Business Case
The purpose of designing this Family Planning Business Case was to help better understand the needs, funding flows and gaps pertaining to Family Planning in Rwanda and provide a clear and up-to-date analysis of FP services needs and gaps, in-country plans and options of how to step up efforts to meet needs in a sustainable manner. The output document is being used to engage with the Government of Rwanda and other stakeholders to bolster progress towards the achievement of the FP2020 objective and beyond to the achievement of the Sustainable Development Goals and Agenda 2030.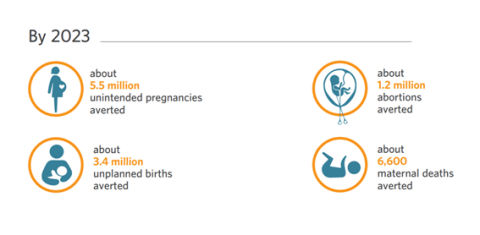 Key results
For every $1 invested in Family Planning could yield on average $112 per annum in returns across sectors between 2015 and 2050.
Infant and maternal health care costs save $ 332 million by 2050.
Maternal mortality ratio reduced from 210 to 40 per 100,000 live births by 2050.
Under-5 mortality rate reduced from 50 to 27 deaths per 1,000 live births by 2050.
Over 2.5 million Rwandans lifted out of poverty by 2050.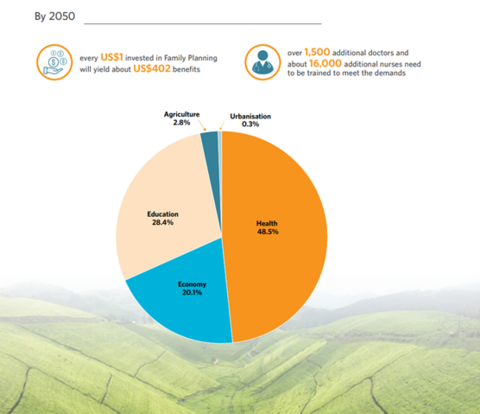 For more details, read the summary or full report by clicking here.