Digital healthcare solutions by girls for girls
At Youth Forum Series under the theme, "Smart Health Opportunities in Africa," on the sidelines of the Transform Africa Summit 2017 in Kigali, the best four entrepreneurs who won the Innovation Accelerator (iAccelerator) participated in the Demo Day and pitched their ideas to attract investors in their health projects. The four winners are Umbrella, Girl District, 'Tantine', and 'Tubiganire' TV Series, all technology-based solutions addressing sexual reproductive health problems. Each winner had been awarded with received $10,000 grant and an entrepreneurial training and mentorship package.
Davide Piga, the knowledge management and innovation specialist at UNFPA regional office in his discussion on a panel on "Smart Health Opportunities in Africa' around business opportunities in ASRH, Big Data and healthcare delivery explained the iAccelerator approach as a smart model to tackle SRHR issues in the region while creating opportunities for reaping a Demographic Dividend by investing in social enterprises led by young innovators.
First Lady Jeannette Kagame urged the youth to take the lead in creating solutions that can address some of the most prevalent healthcare challenges.
"Issues affecting the wellbeing of this demographic group, which makes 40 per cent of our population, simply cannot be ignored, and it is our duty to empower our youth with life-saving information, while encouraging them to take a front seat in the efforts aiming to curb health issues affecting our communities," First Lady Jeannette Kagame said.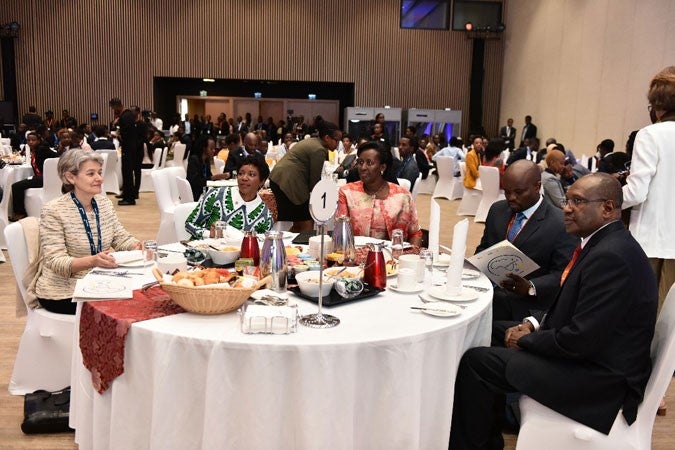 Photo : First Lady of Rwanda, Jeannette Kagame (C ), First Lady of Sao Tome et Principe, Laura Maria Posser Trigueiros da Costa, the Director General of UNESCO, Ms. Irina Bokova (L), Hon. Philbert Nsengimana (2nd right), Dr. Hamadoun Touré - Executive Director, Smart Africa (R).
Citing Rwanda's efforts to transform the health sector using digital technologies, Mrs. Kagame indicated the role that youth have played.
Irina Bokova, the Director General of UNESCO added that while it is important to invest in young people, it is equally important to equip them with skills and knowledge that can enable them to innovate.
"As long as Africa is young, giving the opportunities to the young people to innovate and invent is probably one of the most important thing we can do. Investing in education is believably what can accelerate the whole process" Ms. Irina says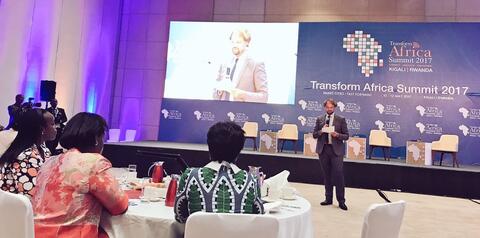 Photo: Mr. Mark Bryan Schreiner, UNFPA Rwanda Representatives addressing the guests while as the First Lady of Rwanda, Jeannette Kagame (C ), First Lady of Sao Tome et Principe, Laura Maria Posser Trigueiros da Costa (R ) and Minister of Health Dr. Diane Gashumba listen
iAccelerator is a mentorship-driven acceleration programme that seeks to promote entrepreneurial spirit among the youth and encourage them to think critically and creatively on issues related to sexual reproductive health (SRH). The programme is an initiative by Imbuto Foundation and UNFPA with funding from UK aid.
The Innovation Accelerator programme is being implemented in Kenya, Uganda, Rwanda and Tanzania.