Twenty-five years ago in 1994, 179 governments gathered in Cairo at the International Conference on Population and Development (ICPD) and reached the consensus that an individual's freedom to make their own reproductive choices is a fundamental human right. The revolutionary ICPD Programme of Action recognizes reproductive health and rights, as well as women's empowerment and gender equality, as the path to sustainable development. While great progress has been made in Rwanda, more remains to be done if we are to achieve sexual and reproductive health and rights for all without leaving anyone behind.   
On 21st June 2019, Parliament through the Rwanda Parliamentarian Network on Population and Development (RPRPD) and UNFPA convened a high-level Partners' Advocacy meeting to review progress, assess gaps, and re-commit to the Cairo promise with focus on family planning in Rwanda. A number of Resolutions were derived from discussions to accelerate the promise to achieving the ICPD Programme of Action:
Revise existing laws and policies to facilitate young people's access to Sexual and Reproductive Health services; increase domestic budgetary allocation to Family Planning programs and activities; encourage Faith Based Organizations (FBOs) to raise awareness and promote Family Planning to their followers; collaborate with all Partners in Family Planning to establish complimentary programs; and convene stakeholder meeting to finalize Rwanda commitments to accelerate ICPD Programme of Action that will be presented by Rwanda delegation at the Nairobi Summit from 12 – 14 November, 2019.
The Resolutions were informed by key deliberations during the meeting. In his opening remarks, the UN Resident Coordinator Mr. Fodé Ndiaye appreciated Rwanda's commitment in policies and programs towards improving the lives of people in Rwanda and applauded the role of UNFPA as a lead agency in promoting sexual and reproductive health and rights for all, particularly for women and girls. 
A key highlight of the advocacy meeting was the high level panel discussion on 'What's Changed' comprising of the Minister of Health, a Member of Parliament, Inter-Faith Organization, Imbuto Foundation and UNFPA. The panel reflected on key achievements in Rwanda since 1994, challenges and opportunities and what needs to be done to achieve universal access to sexual and reproductive health and rights in Rwanda.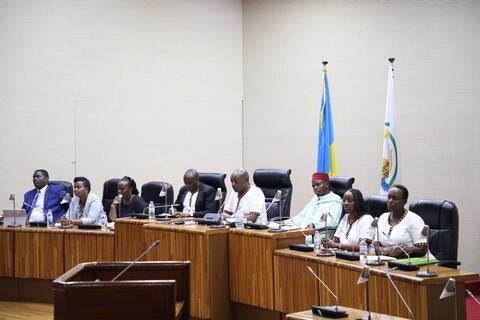 Presenting on the progress on health related policies and strategies that the Government of Rwanda has put in place, Dr. Diane Gashumba, Rwanda's Minister of Health, highlighted the first-ever Reproductive Maternal Neonatal Child and Adolescent Health (RMNCAH) Policy and FP/ASRH Strategy. Challenges that remain include – stagnating Family Planning uptake, low levels of knowledge of Sexual & Reproductive Health, increasing adolescent pregnancy, health financing sustainability, and religious and cultural beliefs as key barriers to Family Planning uptake. Lack of parental communication and support for adolescents regarding ASRH & Rights.
Speaking on the goal of health policies, Minister Gashumba said "Every Rwandan citizen of reproductive age has the right to fully exercise their sexual reproductive health and have access to the services of their choice to improve sexual and reproductive health and achieve SDG 3 by 2030 & Universal Health Coverage".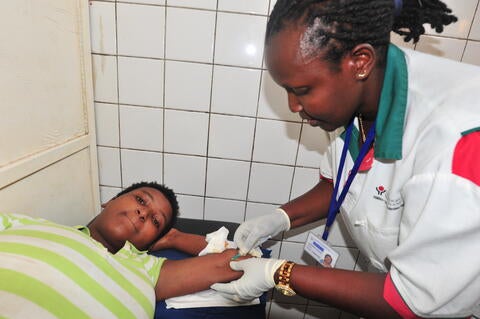 One of UNFPA's key partner Imbuto Foundation, Ms. Geraldine Umutesi cited the First Lady of Rwanda's quote on parenting to illustrate the importance of Family Planning: "A seed well planted, watered, nurtured and given all the necessary support successfully grows into a healthy plant –one that reaches high and stands tall." H.E Jeannette Kagame.
Rwanda was a signatory to the ICPD declaration and since then commitments have been fully integrated in the national development framework; Vision 2020, National Strategy for Transformation 2017-2024, and Sector Strategic Plans.
Dr. Agnes Ntibanyurwa, UNFPA Assistant Representative presented the role of partners in advancing Family Planning in Rwanda. She underlined that development partners hand in hand with the Government must be mobilized to address the existing inequalities that put millions of young girls at risk by enacting policies that will prioritize adolescent health and growth. 
"We need to challenge the economic paradigm in terms of putting the rights of people at the forefront to empower them to move Rwanda to its transformational aspiration of high income country by 2050. Supporting the Government of Rwanda to achieve its national Family Planning priorities and improve quality of life of its people requires efforts of all partners and UNFPA remains committed to fulfilling its promise to support delivering a world where every pregnancy is wanted, every child birth is safe and every young person's potential is fulfilled." She added
Another highlight from the advocacy meeting was the launch of UNFPA State of the World Population Report 2019 under the theme 'Unfinished Business: the pursuit of rights and choices for all' which presented ICPD progress globally and remaining work at hand with specific emphasis on Rwanda.