Dubbed "Kwibuka", Kinyarwanda for remembrance, Rwanda marks the 25th commemoration of the 1994 Genocide against the Tutsi. Although it has been twenty-five years since the Genocide against the Tutsi happened, the effects of this awful event still ripple through society. UNFPA joined various commemoration events with national partners, diplomatic corps and the One UN in Rwanda.
The Ministry of Health staff, including Minister Diane Gashumba and Hon. Patrick Ndimubanzi, the Minister of State in Charge of Public and Primary Healthcare, held a commemoration at Ntarama Genocide site in Bugesera District and were joined by UNFPA Representative to Rwanda, Mr. Mark Bryan Schreiner..
The UN family in Rwanda, led by the Resident Coordinator and other Heads of Agencies and UN Staff were joined by members of the diplomatic corps accredited to Rwanda, Government Representatives, families of genocide survivors and well-wishers in commemoration of former UN staff killed in the 1994 Genocide against the Tutsi.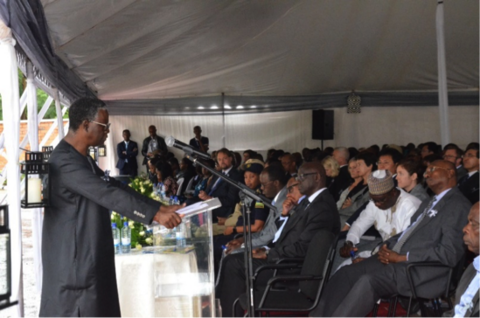 Addressing participants, the One UN Resident Coordinator on behalf of the UN in Rwanda pledged support and collaboration with the Government of Rwanda and her citizens towards rebuilding the country and a peaceful place for all. "NEVER AGAIN SHOULD BE NEVER AGAIN!" Resident Coordinator, Fode Ndiaye said.
In his speech, the Resident Coordinator echoed this message, calling for unity and a renewal of commitment:
"Our vision for a better humanity and a better world is multifaceted. The holistic approach that we need requires principles of unity and cooperation more than ever. With this in mind, let us renew our commitments to work together - across sectors, across institutions, across agencies, across borders, across generations"
Harrowing tales of the events of the 100 days from hell were narrated by those in attendance and a testimony by Ms. Betty Faith, surviving daughter of Ndayisaba Festus, one of the deceased UN staff. Candles were lit and a moment of silence observed for the victims and moral support provided to the survivors.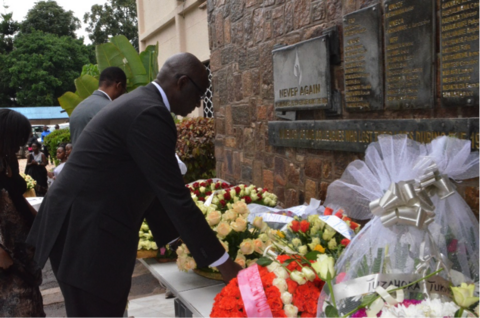 During the commemoration, the guest of Honor Hon. Busingye Johnstone, while delivering his remarks, challenged the UN to play a role in ensuring that such tragedies never happen again elsewhere in the world.
For the UN staff who lost their lives, "let us not forget their faces and their good actions. There are no better words to comfort you especially the genocide survivors but let's have hope" Minister Busingye, said.
In line with the theme of the commemoration, "Remember – unite – renew", mourners lit candles and reflected on the gains made by the country 25 years after the ethnic carnage.