My Body, My Dignity!
Rwanda: Our march continues until the rights, choices and bodies of all girls are fully their own. 
Nearly half of women in 57 developing countries are denied the right to decide whether to have sex with their partners, use contraception or seek health care, according to UNFPA's 2021 Flagship State of World Population report launched in April this year. The 2021 State of World Population report, titled My Body is My Own, focuses on the power and agency of individuals to make choices about their bodies without fear, violence or coercion.
For the first time, a United Nations report focuses on bodily autonomy: the power and agency to make choices about your body, without fear of violence or having someone else decide for you. This lack of bodily autonomy has massive implications beyond the profound harms to individual women and girls: potentially depressing economic productivity, undercutting skills, and resulting in extra costs to healthcare and judicial systems.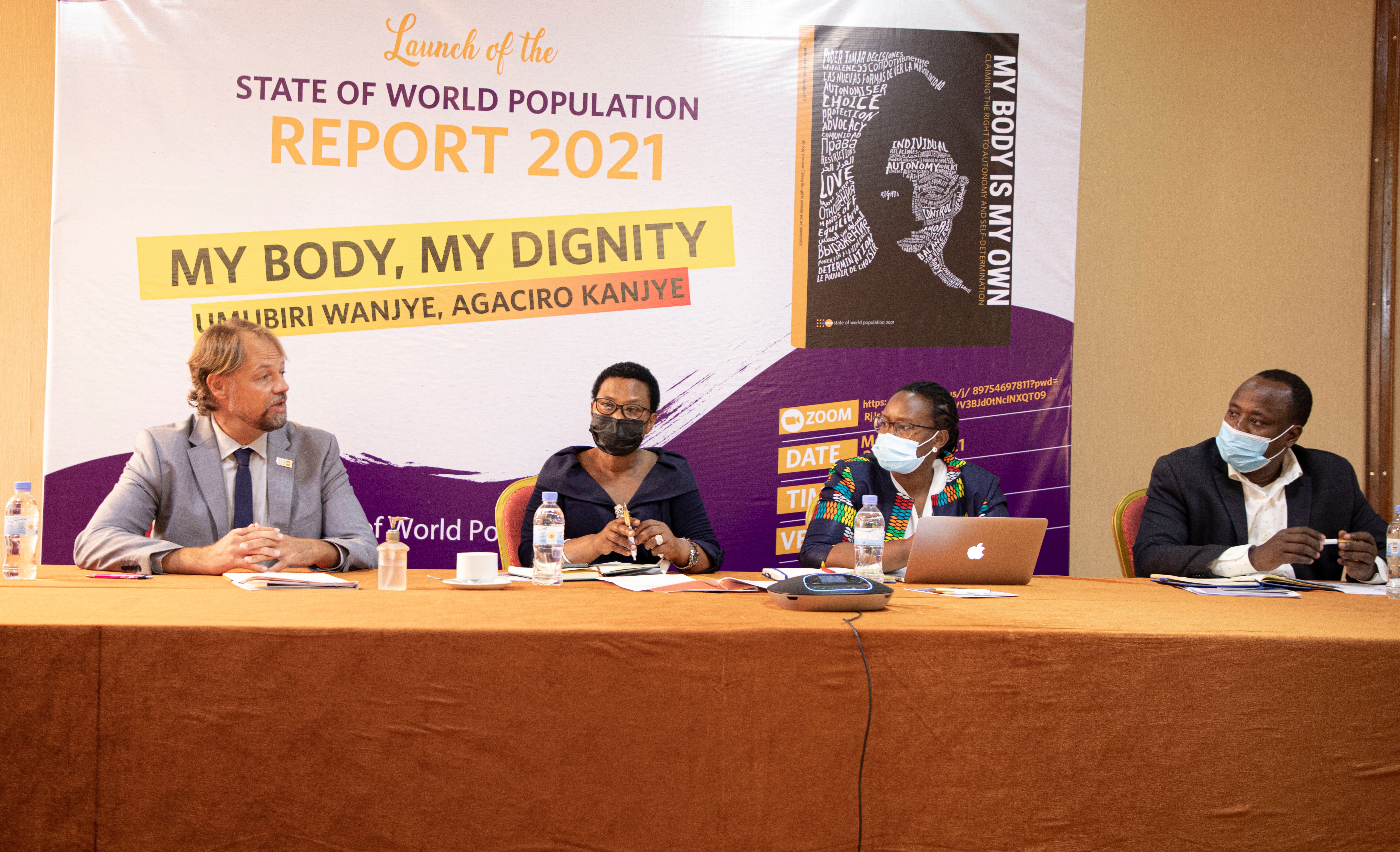 A panel of discussion included UNFPA,RPRPD, MIGEPROF and HDI
Through this groundbreaking report, UNFPA is measuring both women's power to make their own decisions about their bodies and the extent to which countries' laws support or interfere with a woman's right to make these decisions. The data show a strong link between decision-making power and higher levels of education.
"The fact that nearly half of women still cannot make their own decisions about whether or not to have sex, use contraception or seek health care should outrage us all," says UNFPA Executive Director Dr. Natalia Kanem. "In essence, hundreds of millions of women and girls do not own their own bodies. Their lives are governed by others." She added
The Rwanda Demographic Health Survey 2019/2020 revealed that 5% of women aged 15-19 have begun childbearing: 4% have had a live birth, and 1% were pregnant at the time of the interview. The proportion of teenagers who have begun childbearing rises rapidly with age, from less than 1% at age 15 to 15% at age 19. Teenagers with lower levels of education and those in the lowest wealth quintile tend to start childbearing earlier than other teenagers. UNFPA is working in partnership with the Government of Rwanda to support the availability of information and services to women and girls through equipping youth friendly services, supporting Comprehensive Sexuality Education, and ensuring supply chain of contraceptives across Rwanda. 
Umubiri wanjye, Agaciro kanjye!
"At UNFPA, we know that communities can flourish only when all women are empowered to make their own informed decisions about their bodies and lives. We will not stop until the rights, choices and bodies of all girls are fully their own." Says Mark Bryan Schreiner, UNFPA Representative in Rwanda
The 2021 State of World Population report was launched in Rwanda on 24th May, as kicking-off a one-week long campaign entitled "My body, my dignity, Claiming the right to autonomy and self-determination", locally translated as "Umubiri wanjye, Agaciro kanjye: wimpohotera"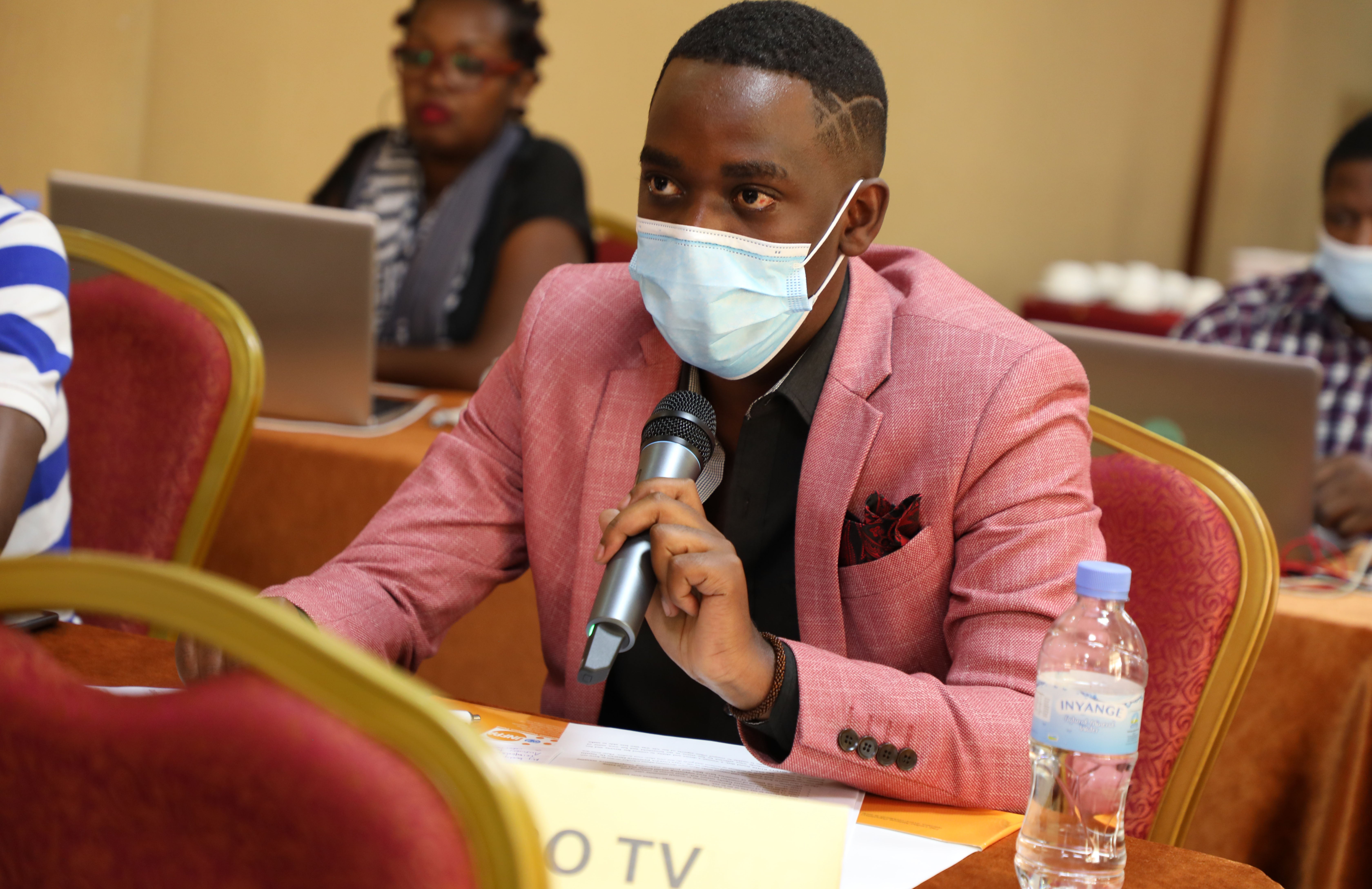 Journalists were given time to ask questions and contribute to the discussions.
The campaign was conducted to raise awareness on sexual and reproductive health and rights with a focus on the fight against all forms of violence mainly gender based violence and teenage pregnancy, increased awareness on the sexual and reproductive health needs and rights of women and girls.
The campaign combined the launch of UNFPA State of World Population (SWOP) Report 2021, the launch of the new Safeguard Young People Programme (SYP) in Rwanda and the commemoration of the Menstrual Health Day 2021.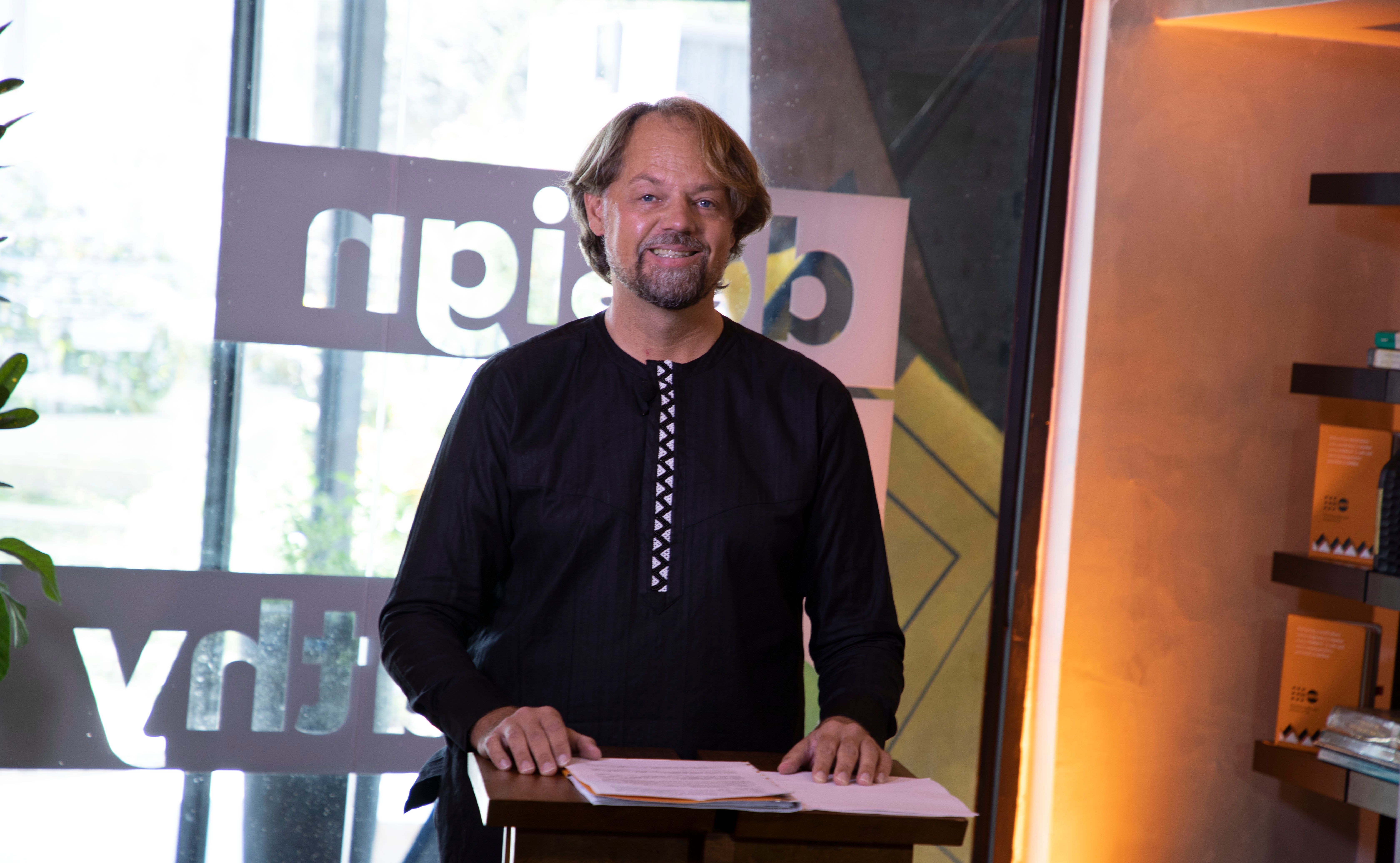 Mark Bryan Schreiner, UNFPA Representative, delivering his remarks at the SYP launch in Rwanda 
The Safeguard Young People (SYP) Programme initiated by the UNFPA Eastern and Southern Africa Regional Office in 2013, aims to empower adolescents and young people age 10–24, especially adolescent girls, to protect themselves from sexually transmitted infections (STIs), including HIV, unintended pregnancies, unsafe abortions, early marriage, sexual coercion and other GBV and harmful practices; and to promote gender-equitable norms. After the successful achievements in 8 countries where it was implemented (Botswana, Eswatini, Lesotho, Malawi, Namibia, South Africa, Zambia and Zimbabwe), the key partner Swiss Agency for Development and Cooperation (SDC) approved its expansion to Rwanda and Tanzania in 2021.  
Launching the program in Rwanda, Marc de Santis, the SDC Regional Director stated:
 "SDC is committed to actively raising the quality of life of young persons in Rwanda. The SYP program comes as a complementary intervention to our existing program targeting young people. SDC particularly commendes that SYP integrates gender transformative aspects. This program not only gives adolescent girls and young women access to key services but also helps communities understand and challenges social norms that perpetuate inequality between boys and girls." 
In her remarks, Guest of Honour, Minister of Youth and Culture expressed appreciation to UNFPA Rwanda and other partners for the unwavering support towards youth empowerment through various programmes and initiatives including the Youth Connekt, iAccelerator among others. 
"The Safeguard Young People Programme launched today as we celebrate the Menstrual Health Day, came at the exact right time and will definitely complement available Youth health programs such as Behavior Change Communication, SRH and HIV prevention". Hon. Rosemary Mbabazi, Minister of Youth and Culture. 
The Menstrual Health Day (28 May) is a global advocacy platform that brings together the voices and actions of non-profits, government agencies, individuals, the private sector and the media to promote good menstrual hygiene management (MHM) for all women and girls. 
In many cultures, young adolescent girls tend to be less prepared for Menstrual Health and suffer from anxiety, apprehensions, fear and shame. In addition, social taboos and cultural restraints during menstruation mean that managing menstruation is a greater challenge.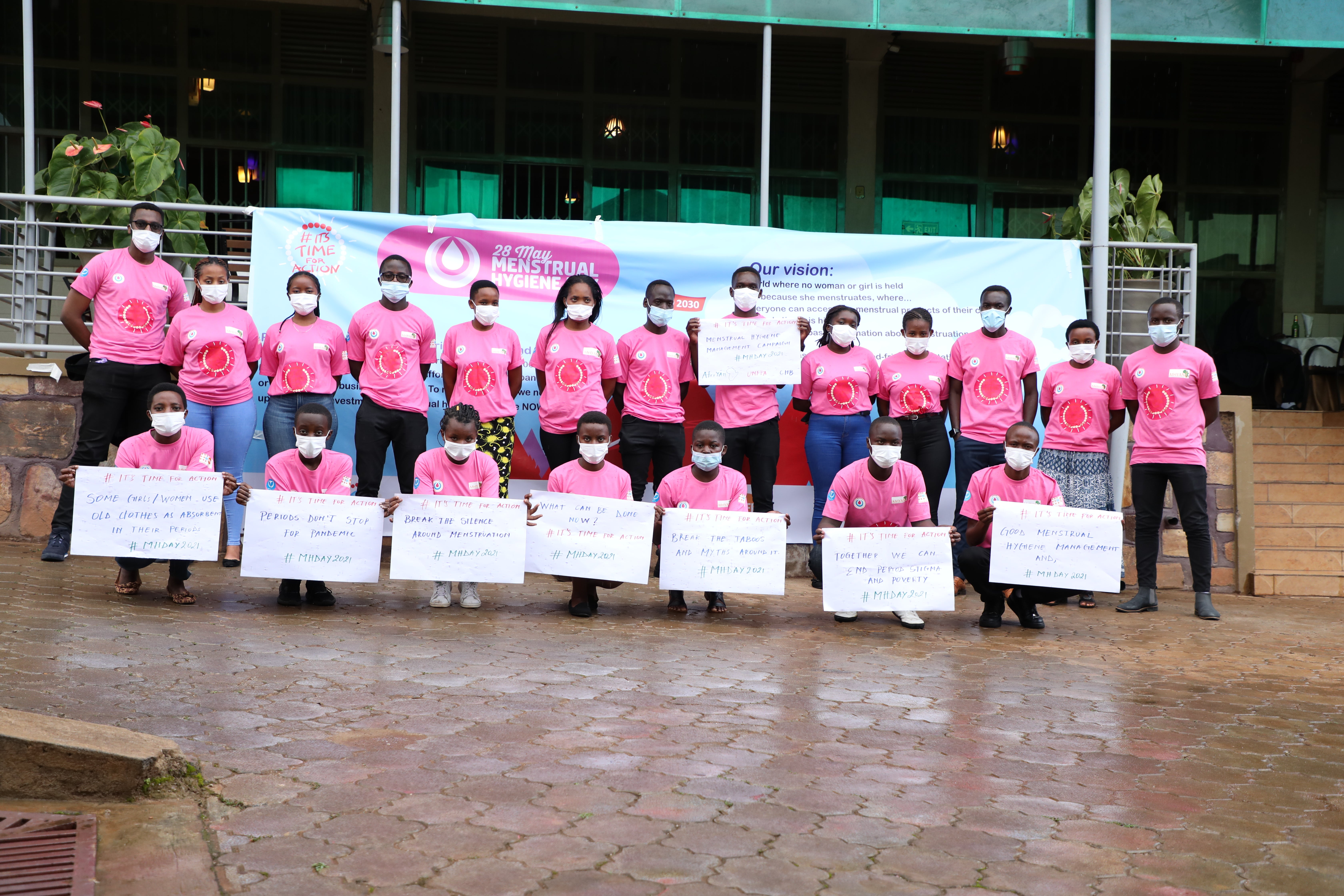 Young people shared their experience with menstrual health management
"Together, we must create a society in which no woman or girl is held back because of her period, where no woman or girl is kept from realizing her full potential because she menstruates, and where menstruation is just a normal fact of life. Let us bring together the voices and actions of different stakeholders to promote good menstrual health for all women and girls. "proclaimed Mark Bryan Schreiner
You can access: