Rwanda was chosen to host the continental meeting for having achieved something no other country has ever done: produce a legislature in which women outnumber men.  56% of parliamentarians are female.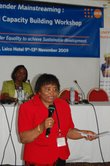 "Gathering such a lot of brains here is an opportunity and a forum to learn from our different experiences and share the best practices that would boost gender equality in our countries", said Dr Myriam Jato, Gender Advisor to UNFPA Africa Regional Office
The workshop is a fourth in a series in 2009, and is a response to an expressed need to develop a critical mass of expertise in gender analysis and programming in Africa.
"This training was a success because each country represented reflected on its weaknesses and strengths and got several lessons on how to improve gender mainstreaming in our programmes", said Nicole Mouguelta, of UNFPA Chad.
In the 21st Century, we have no other choice than taking courageous action on gender issues" says a statement by Mr. Bunmi Makinwa, UNFPA Africa Regional Director.
"This is an opportunity to learn from each other and strengthen youe delivery and performance in promoting gender equality and women' empowerment in your respective countries, so that we shall move away from Africa of inequalities to Africa of equality and Justice", declares Mr. Makinwa's statement.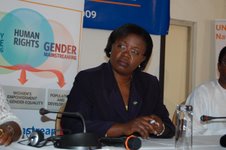 In her remarks, Honourable Jeanne d'Arc Mujawamaliya, Minister of Gender and Family Promotion in Rwanda, urged the participants to put into actions all lessons learnt. She requested them to use innovative ways in tackling the challenging gender equality and women empowerment issues with increased commitment and vigour.
Since 2000, UNFPA has adopted "gender equality and women empowerment" as one of its three strategic corporate programming goals reflected in its 2008-2011 Strategic Plan. UNFPA's position on gender equality is in line with the International Conference on Population and Development Programme of Action (ICPD/PoA) which firmly establishes the centrality of women in development and affirms that the emancipation and empowerment of women to a level equal to that of men are important to the achievement of sustainable development.