UNFPA Rwanda's Road to Nairobi continues as staff, government officials and partners assisted the local community in building an actual road as part of Rwanda's Umuganda - a Rwanda homegrown solution wherein every last Saturday of the month the community comes together to undertake community work to the benefit of all. Umuganda activities, which stem from the Rwandan culture of self-sufficiency and cooperation, include general cleaning of identified areas, tree planting, building and maintaining different infrastructures, and a gathering of the community to discuss current issues, programs and news in the country. 
Under the leadership of the Government of Rwanda and UNFPA, this month's Umuganda was dedicated to the celebration of the 25th anniversary of the International Conference on Population and Development (ICPD) and the 50th Anniversary of UNFPA). It was an opportunity to recognize advancements made in family planning policies and programmes, encourage citizens to embrace family planning, and acknowledge the importance of identifying when and how many children to have according to one's available resources and capacity, not by chance but by choice.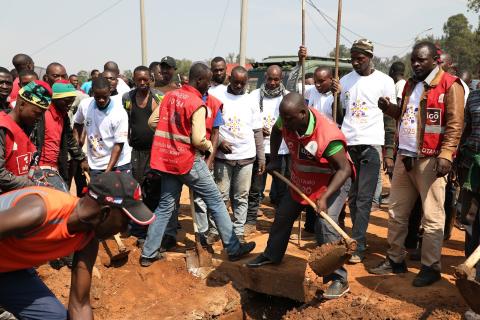 "Rwanda is among the top achievers in Africa in advancing women's rights and access to family planning services. Despite these achievements, we still need to double efforts to reduce teenage pregnancies, which have increased from 6.1% to 7.3% in 5 years" said Mark Bryan Schreiner, UNFPA Rwanda Country Representative. "Today, I want to call upon everyone to take up their role in promoting universal access to sexual and reproductive health information and services, especially in our households. The conversations we have within our families, among couples, with our children, and the decisions we make about our sexual and reproductive health will inevitably influence the progress of the societies we live in" added the UNFPA Representative.
Activities took place in the Gasabo District, Kimihurura sector, from 8:00am until 11:00am, with the participation of community members aged 18 to 65 years. The majority of participants were youth, reflecting the Rwandan population of which nearly 60% is composed of people under the age of 25. Following the road-building activity, participants convened for the planned community meeting where key messages aimed to empower youth to make informed choices that would benefit their future, including raising awareness on the importance of reducing teenage pregnancy and lowering school dropout rates. The value of the road, constructed in less than 4 hours, was estimated at 7 million Rwandan Francs (about 7,000 USD), a contribution appreciated by local leaders and community.
"Family planning is taking shape. A Rwandan family on average had six children 10 years ago, but today the number has come down to only four" said Dr Sabin Nsanzimana, newly appointed Director General of the Rwanda Biomedical Center (RBC). "We encourage you to continue using family planning because that is the foundation of a good family."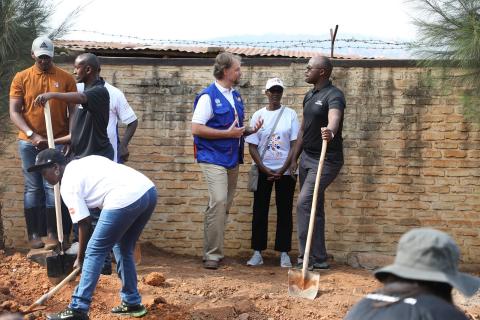 In addition to Dr Nsanzimana, speaking on behalf of the Minister of Health, guests of honour also included Mr Pudence Rubingisa, the new Mayor of the City of Kigali, participating in his first Umuganda following his recent appointment. Other high level participants included Members of Parliament, the Executive Secretary of the National Commission for Children, the Director General of the National Institute of Statistics of Rwanda, and UNFPA and One UN leadership and staff.
"This is a very special year for us at UNFPA and we are very proud to be able to celebrate it through homegrown solutions such as Umuganda" concluded Mark Bryan Schreiner. On the Road to the Nairobi Summit, investment in the country's human capital and sustained efforts to realize reproductive health and rights are crucial to the development of Rwanda and the fulfilment of the ICPD Programme of Action, to ensure the pursuit of rights and choices for all becomes a reality for this and future generations.