Photo: Uwimana Josianne in Nganzo Health centre with her new born baby received dignity kit donated by UNFPA.
UNFPA, the United Nations Population Fund, as an integral part of One UN response to heavy rains and landslides that hit Gakenke District has continued its commitment to assist the Government of Rwanda to uphold the dignity of affected populations especially affected pregnant and lactating women and vulnerable adolescent girls by ensuring better maternal health services.  After the heavy rains and landslides early May last year in Gakenke District, it was identified that women and children represented the largest group of individuals affected by emergencies. The natural disaster had increased the vulnerability of Gakenke populations especially women and girls in reproductive age with a total of 16,850. Their capacity to seek health services had been compromised and health facilities required support for them to be able to provide free emergency maternal and sexual reproductive health services to those affected.
The surrounding health centers of Mataba, Nganzo, and Minazi were supported by UNFPA to respond to the sexual and reproductive health needs with maternity medical equipment, commodities and essential medicines, dignity kits and materials for community health workers to help especially pregnant women and lactating mothers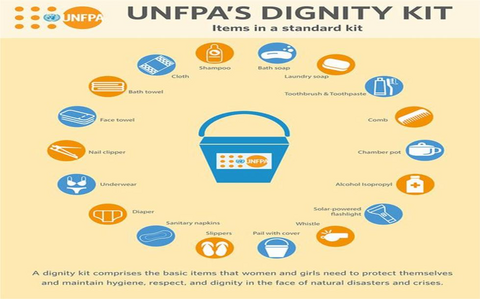 The total of 820 dignity kits donated to Mataba, Nganzo, and Minazi health centres contain a number of basic hygiene items which include; a basin, bucket, blanket, washing soap, towel, baby clothes, baby bedsheets, fabric material, Vaseline, sanitation pads and nickers for a mother and her new-born baby. All medical equipment and essential medicines handed over are valued at 51,346 USD in addition to previous donation valued at 41,224 USD.  With thanks to CERF for the contribution of 107,300 USD, UNFPA was able procure lifesaving maternal health commodities including medicine to ensure safe birth and restore dignity of affected women and adolescent girls.
''I take this opportunity to express gratitude to the Government of Rwanda, the District of Gakenke and One UN Rwanda family and other partners that have responded to the needs of the affected population. UNFPA pledges continued support to ensure their wellbeing and needed support for disaster recovery''. Said Mark Bryan Schreiner, UNFPA Representative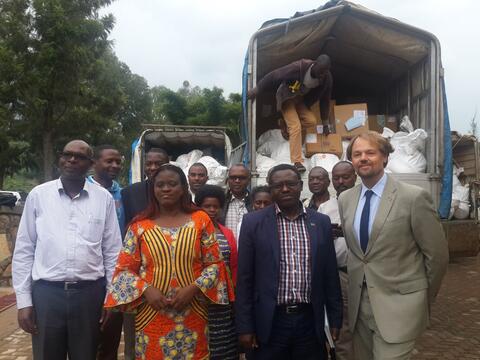 Photo: R – L: UNFPA Representative, Mr. Mark Bryan Schreiner, Mayor Gakenke District, Mr. Déogratias Nzamwita, Vice Mayor in charge of Social affairs Gakenke, Ms. Catherine Uwimana with Heads of Health centres receiving donated dignity kits and medical equipment in three trucks at the back.
Speaking to the mayor, he reported that the landslides caused the death of 34 people and injured 19 people. A total of 1,425 houses were damaged, rendering homeless approximately 6,031 people including children and affecting 16,850 women and girls in reproductive age.
He underlined that the donation will help to reduce health impact and ensure meeting the basic health needs for the affected women and girls. The affected populations are in recovery process with thanks to One UN Rwanda's support.
"The Government of Rwanda and UN Rwanda have provided great support to us and to those affected to recover from disaster. The District and the people themselves are grateful and particularly UNFPA's support to health centres. A friend in need is a friend indeed" said Mr. Nzamwita Deogratius, Mayor of Gakenke District.
The night of 7th and 8th May 2016, Gakenke District was affected by a series of landslides that occurred in almost all of the sectors of the District. The landslides were triggered by the heavy and torrential rains in these areas caused by the El Niño and La Niña phenomenon.