Bugesera, March 26th 2010 - The visiting delegation of diplomats representing the boards of UNDP, UNFPA, UNICEF and WFP made a visit to the 'kitchen garden' nutrition project at Mareba Health center and Murama Primary School in Bugesera district.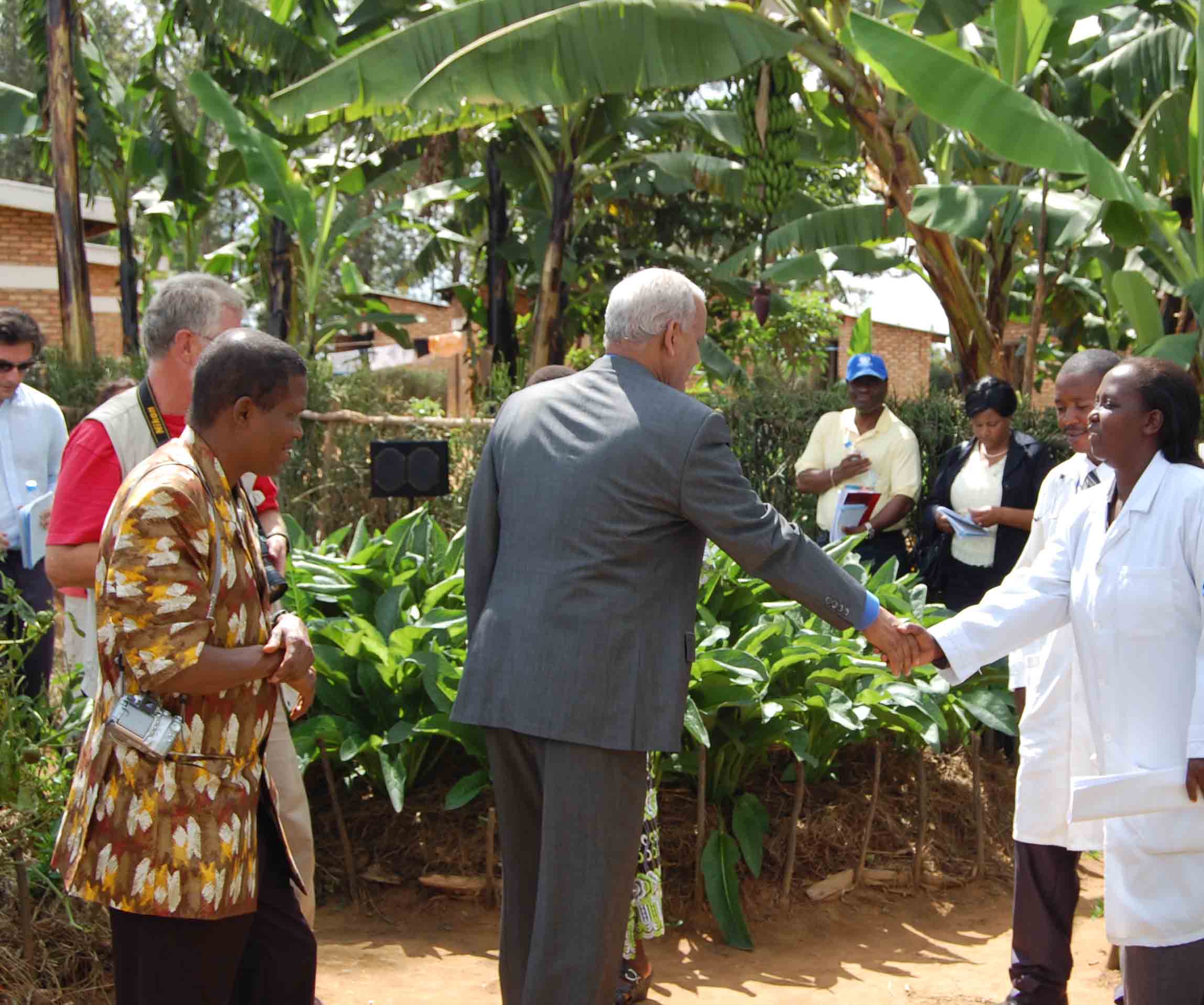 This Mareba Kitchen garden project which targets pregnant women and those with children under five, is an initiative that started in partnership of the Government of Rwanda, UNFPA, WFP and Rwanda Flora. The project aims at improving household level of food security and promotes women empowerment, family planning and Reproductive Health as a way to assist families to have nutritious diet every day.
"In the course of this project, I learnt many things. I now prepare a balanced diet to my children and they all look healthy", said Charlotte Mundanikure, a-29 year-old woman and mother of five. "This boy that you see came from far because in his earlier stage he had a severe malnutrition", she added as she points out her 3 year old baby, Elisa. 
Through kitchen garden initiative, the team witnessed hands-on UN collaboration with Government and private company (Rwanda Flora). 
"It is inspirational to see what you are doing here. Growing nutritious food on small land and using appropriate gardening technologies is something every country can learn from Mareba" said H.E. Ambassador Abderrahim Ould Hadrami, head of the twenty-people delegation.
Women in the 'Kitchen garden project receive a range of trainings on nutrition, HIV prevention, hygiene, family planning and general primary health.
In the afternoon the delegation had the opportunity to meet with the Minister of Education, Dr. Charles Murigande and representatives of development partners to discuss the contribution of the UN to Rwanda's EDPRS and Vision 2020 Education goals. They learned about how the UN has supported quality education for children to bring down Rwanda's drop out and repetition rates as well as improve retention and learning. They were impressed by the government's efforts to increase the number of classrooms and trained teachers. Afterwards, the delegation visited Murama Primary School, a model Child Friendly School supported by the UN. This school promotes a child centered learning methodology that focuses on learning outcomes and has received hardware and software input from UNICEF, WFP and FAO that has enabled the school to have better class rooms, kitchen gardens, separate latrines, clean water, a daily meal and be a model for other schools in this area.