UNFPA, the United Nations Population Fund, is strengthening its longstanding relationship with the Republic of Korea by opening a Liaison Office in Seoul. The new office will facilitate even closer cooperation on global population and development matters, including sexual and reproductive health and rights, population ageing and humanitarian response.
Collaboration between UNFPA and the Republic of Korea goes back to 1974 when UNFPA helped the government in the area of population policy and planning, including rights-based family planning, population surveys and using data for sustainable development.
"This is a very auspicious moment for UNFPA, as we mark our 50th year as the United Nations sexual and reproductive health agency, promoting rights and choices for all. UNFPA has long been proud of its special relationship with the Republic of Korea, and our new liaison office will strengthen this important partnership," said UNFPA Executive Director, Dr. Natalia Kanem.
"As a developing country in the 1970s, the Republic of Korea made crucial investments in health, family planning, education and women's empowerment, spurring a significant demographic dividend," added Dr. Kanem. "Now, it is sharing its wealth of experience, resources and best practices to support developing countries in Asia-Pacific and globally.
This year marks UNFPA's 50th anniversary, as well as the 25th anniversary of International Conference on Population and Development (ICPD), the revolutionary agreement that placed human rights and individual choice at the heart of sustainable development.
The Republic of Korea was one of the 179 countries that adopted the ICPD Programme of Action, seeing it as key to socio-economic advancement. The country continues to strongly support the vision enshrined within the Programme of Action, whose success is essential to fulfilling the 2030 Agenda for Sustainable Development.
Partnership Strengthening in Rwanda
UNFPA Rwanda has been privileged to partner through the Republic of Korea Embassy and the Korea International Corporation Agency (KOICA).  Korea provided financial support to UNFPA to ensure continuity of family planning and reproductive health services for vulnerable Burundian refugees in Rwanda.  
Achievements with Korea funding include establishment of 3 youth-friendly centers in Mahama Refugee Camp with sexual and reproductive health services tailored to the needs of adolescents and young people, safe delivery of babies in Mahama Refugee Camp, reduced incidence of maternal mortality and continued support to Family Planning.
The Korean Ambassador KIM Eungjoong and KOICA Country Director LEE Byung Hwa joined the field visit of the One UN team to Mahama Refugee Camp to witness their support to the Burundian refugees delivered through UNFPA programmes.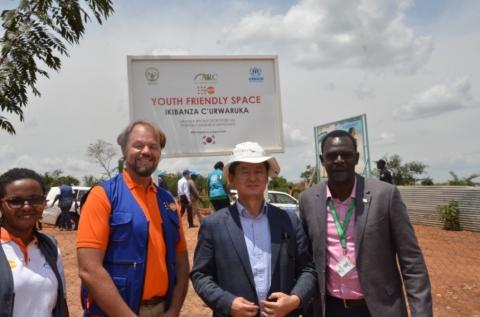 UNFPA Rwanda signed a partnership agreement with KOICA for the Korea International Development Volunteer Programme (KIDV), with first KIDV commencing in November 2018, Ms Jeongmin Lee.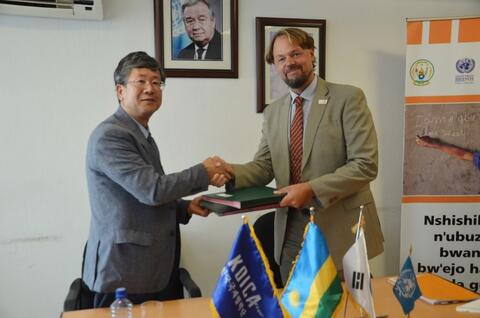 "We are proud to be among the first offices to partner with KOICA's International Development Volunteer programme and know this partnership will bear fruitful results that we both look forward to. As Rwanda and the One UN family unfold new country programmes it is perfect timing for Rwanda and the KIDV," acclaimed Mr. Mark Bryan Schreiner, UNFPA Representative.
 "We are grateful to partner with UNFPA and especially here in Rwanda. The Government of Korea has been a great supporter of women's health and rights, including responding to the needs of those vulnerable in humanitarian settings," stated Mr. LEE Byung Hwa, KOICA Country Director to Rwanda.
"It has been a good opportunity to learn the process of M&E not only in country programme, but in the context of One UN and joint efforts through UN Development Assistance Plan," Jeongmin Lee, KIDV Research and M&E Analyst.
With growing global partnership between UNFPA and Republic of Korea, Rwanda looks forward to enhancing our partnership to promote sexual and reproductive health & rights, population ageing and other key development issues, thereby contributing to delivering a world where health, rights and choices for all ages across the life cycle are realized.
Maureen TWAHIRWA